These days you probably find yourself in a part of the world that is locked down, sheltering
in place or quarantined. Seems like a good time to dust off your cooking skills
and maybe even had to get creative.  Cooking with a given set of ingredients always makes me feel like a contestant on one of the chef shows.
Last week I found myself with a chunk of roast pumpkin that needed to be used before it went bad.
We had already eaten the other half of the pumpkin as faux pumpkin pie for dessert and pumpkin, cinnamon and honey spread on toast for breakfast.  It was time to shoot for a dinner option.
Just before the quarantine I had pulled everything out of my spice drawer, and labeled and
organized my treasure trove, so I knew pretty much what I had to work with.  I opted to make pumpkin sage pasta sauce.
I began the sweet, herby mixture by caramelizing an onion in olive oil over medium high heat. Of
course, I season as I go so, I added a bit of salt to the pan as they cooked. Once the onions began to wilt, I added a chopped clove of garlic and then a heaping teaspoon of dried sage.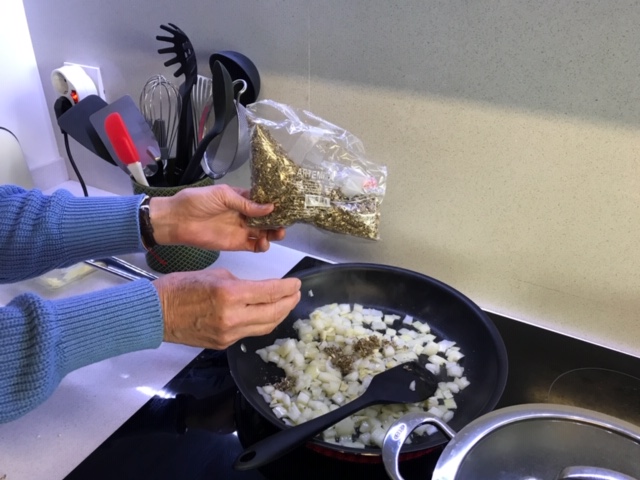 While the onions slowly saluted, I filled my pasta pot with water and put it on medium heat so
that it would be close to a boil when I was ready to drop in my pasta. I chose rigatoni for this dish.  I like the
bite-sized pieces and the tubes hold just the right amount of sauce when you are eating.
I cut the pumpkin into small chunks and ended up with about 1 1/3 cups.  If you don't have fresh roast pumpkin, you can substitute canned pumpkin.  About one cup should do.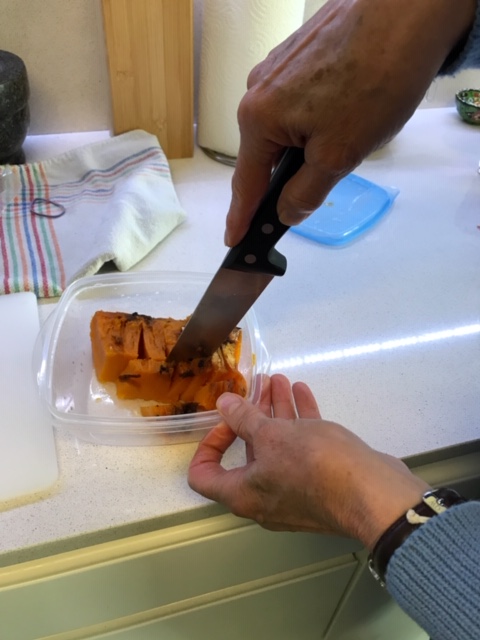 Right about here you want to turn the heat up on your pasta water to bring it to a boil.
I mixed the pumpkin with the caramelized onion mixture, breaking up the pumpkin chunks until I had a nice thick sauce.  To thin it out a bit and give it more flavor I added four ice cubes of home-made chicken broth. (chicken broth cubes are great when sauteing fresh veggies too) To round out
the sweetness a bit I added a scant teaspoon of sugar.  Turned down the heat and added four tablespoons of heavy cream to give the sauce a creamy finish.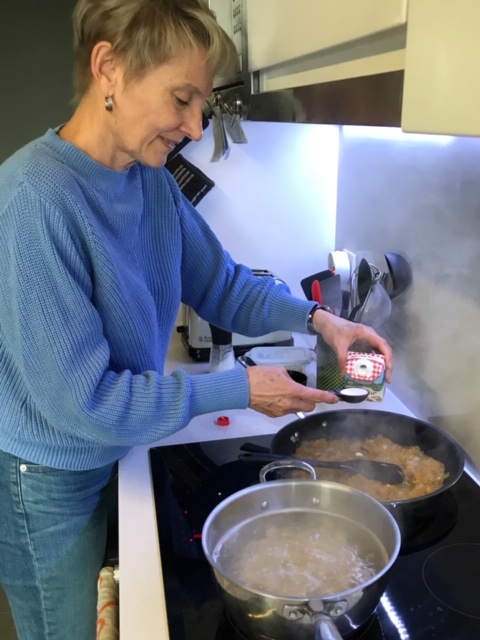 I let the mixture simmer on low while the pasta cooked –11 minutes. While I waited, I had to add a little water to keep the sauce from getting too thick.  Keep an eye on your sauce and add water as you need.
While the pasta is boiling grate a cup of parmesan cheese. I like it grated on the large hole side of the grater.
When your pasta is al dente drain and immediately add to the sauce.  Add the parmesan cheese and lightly mix until the pasta is covered, and the cheese has melted.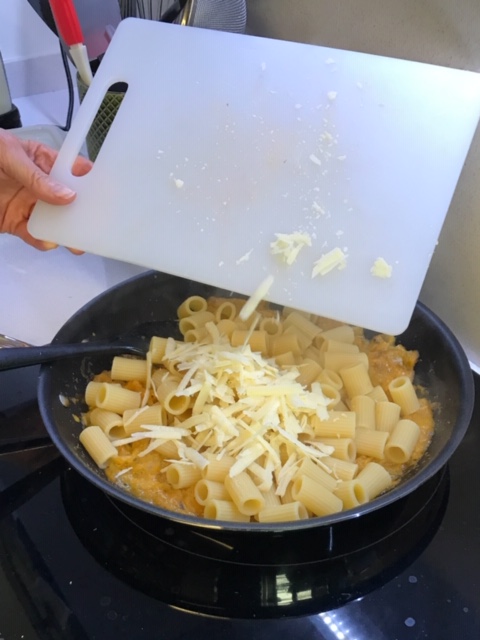 Plate, drizzle with a little extra virgin olive oil and sprinkle with parsley.
We added a simple salad and a glass of rose to round out the meal.
Spoiler alert.  We made half the bag of pasta and I was unable to finish my half of what we cooked.  Good thing we like leftover.  I reheat them in a sauté pan with a little water over medium low heat and a lid.
Ingredients:
2 tablespoons
olive oil
1 medium onion
chopped fine
1 clove garlic
chopped fine
1 teaspoon salt
1 heaping teaspoon
of dried sage
1 1/3 cup of roast
pumpkin chunks OR 1 cup canned pumpkin
½ teaspoon sugar
4 tablespoons of
heavy cream (optional)
Half a pound of
rigatoni pasta
Salt for pasta
water
1 cup of grated
parmesan cheese
Extra virgin olive
oil for finishing
Chopped parsley
for garnishing